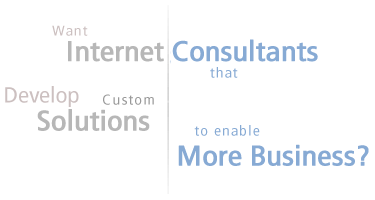 Internet consultants at Consensus Technology, a web development firm, provide web site design, social media strategies, search engine optimization and web site hosting services. As a web development firm, our Internet consultants help you with your Internet Business Strategy. We design your new web site or upgrade your existing web site to help you accomplish your business goals, offer individualized search engine optimization and placement services, host, and maintain your web site.

Why Hire Internet Consultants at Consensus Technology?
We find we usually do business with people we feel comfortable with, take good care of us and provide what we want at a competitive price. Perhaps you feel the same way, that is, perhaps it's because you get the outcome you are looking for...
Web Design the Way You Want It
"Consensus Technology made website development and data management a dream come true from the nightmare of challenges we had been facing. Pamela and Gerard are flat-out brilliant, highly skilled, creative, caring, resourceful, cheerful as the sunrise and dependable as the day is long. A business could not ask for a better technology partner."